Top Web Design Trends of 2021
Each year, the world of online business keeps growing, and this growth is increasing more rapidly than ever before. It can often be hard to keep up with the latest trends. But don't worry. Here at Ricorocks we pride ourselves on keeping pace with the constantly changing online trends that keep businesses fresh and exciting. So, what's on trend this year so far?
In 2020, we all faced a year of quarantines and nationwide restrictions, pushing more businesses and customers online and changing the way we live our lives. Because we're all living in the digital world more and more, many companies have been endeavouring to re-create real-life experiences and make them available digitally. This has changed the way we approach web design. We've increased the levels of engagement, exploring new avenues of visual communication. Are you looking for design ideas or some inspiration on refreshing your company's website designs? Here's a list of some of the top trending design features so far this year:
The Sophisticated Serif
For a long time, the reliable legibility and simple structure of sans-serif fonts has put this style of font firmly on top for many graphic designers. However, phones are getting larger; tablets are getting faster and more adaptable; laptops and desktops are much better quality. All the devices we use have higher-resolution screens. This makes it so much easier to implement the more modern and sophisticated serif fonts. Many sites have taken advantage of this rising trend in order to add an elegance to their branding. A lovely example of this is Packhorse Farm Nursery's website (recently created by Ricorocks Digital Agency). The smart, contemporary font used adds a real luxurious feel to this company's brand.
Turn Down the Brightness
Since we're spending so much time online, a new problem arose regarding the screens we spend so long staring at.  Many people have become averse to staring at bright white screens.  Over the last few years, this problem has been addressed by adding a 'dark mode' to many phones, tablets and apps.  Now, more and more websites are following this same trend, concluding that potential customers will spend longer on site that's easier on the eyes.  One way of doing this is by mimicking the aforementioned 'dark mode'.  As well as putting the customer at ease, this kind of colour scheme can also create a very striking effect.  Splashes of vibrant colour on a dark background is really attention-grabbing, like fireworks lighting up a night sky.  Take the HUBS website, for example.  Look at the way the purple of the call-to-action buttons leaps off the screen!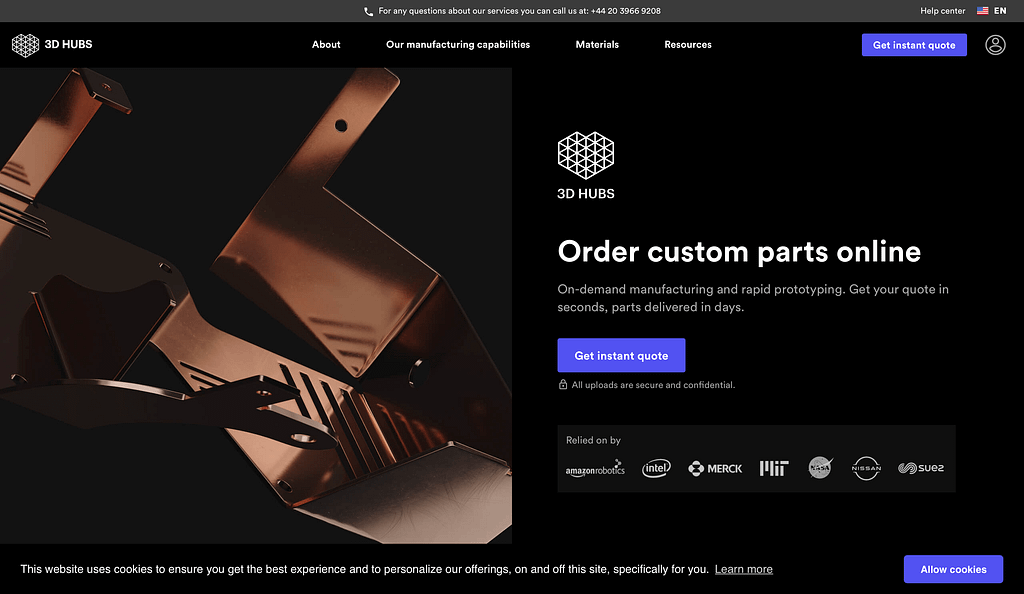 Au-Naturel
This is a popular trend both online and offline. Whilst minimalism and simplicity are still considered chic and modern design choices, many are also drawing inspiration from nature. Sales of indoor houseplants have absolutely shot up, as many people seek to add some natural beauty to their lives. Online, designers are using natural textures and muted shades. The structure and flow of websites is also very organic, adding lots of movement.
Another part of this trend is the use of hand-drawn illustrations. The idea of re-creating real-life experiences digitally is very much reflected in this trend. Adding the human touch of a hand-drawn illustration to a site gives it a real approachable feel. The site feels alive and intimate, which people are really drawn to recently. One beautiful example of this is The Grove Hotel's website. Their gorgeous illustrations add a real organic feel to their site.
These are just three of the many rising trends we're seeing emerge this year. It can be hard to keep up to date with the constantly changing popular designs, but here at Ricorocks it's just what we do! If you're looking for help in updating your business's designs, feel free to get in touch with us. We can help your business keep up with the trend and embrace an ever-growing digital world.